Map Unavailable
Date/Time
10/15/23
10:00 am - 12:00 pm
Categories

A More Perfect Union: Chinese Medical Sexology
Presented by: David Allen, LAc, DACM
To bring you this program, we have partnered with Net of Knowledge, a global learning platform built for TCM and integrative health practitioners. The event will be accessible from your very own Net of Knowledge account where you will find the meeting link, review the course information, connect with the teacher, download handouts, print your certificates, and even watch the recordings afterwards!
Description: This course will lay the foundation for the understanding of sexuality from the perspective of TCM to help practitioners diagnose and treat sexual disorders within the context of both acupuncture and herbology.
Goals and Objectives:
The understanding of how TCM describes sexuality. Participants will gain a working understanding of the different organs and channels associated with different aspects of sexual physiology. This includes 

The understanding of diagnosis in regards to sexual dysfunction. Practitioners will learn to recognize specific symptoms related to dysfunction, specifically the different pathomechanisms and patterns that are typically present.

The understanding of treatment of sexual disorders. Building on pattern discrimination, practitioners will have a thorough understanding of the types of herbal formulas and acupuncture treatments that are useful in treating sexual disorders.
This course is $25 for OAA Members and $50 non-Members. Attendance will grant 2 NCCAOM CEU's under the AOM-ACU category. The course will be presented via Zoom on October 15, 2023 at 10:00 AM PST.  See below for instructions on how to get access.
David Allen graduated from Pacific College of Oriental Medicine in with his masters in 2007, and again with his doctorate in 2016, having spent many years studying directly under Alex Tiberi, widely considered to be the foremost expert on pediatric acupuncture and herbalism in the Western world. Part of this training included developing painless, needle-free alternatives to acupuncture, and safe, healthy, and tasty herbal formulas for a wide variety of conditions. David travels extensively in Korea and China furthering his studies in pediatrics. David is a faculty member at Pacific College of Oriental Medicine, the nation's educational leader in Traditional East Asian Medicine. He also supervises acupuncture students at the Integrative Medicine program at Rady's Children's Hospital of San Diego.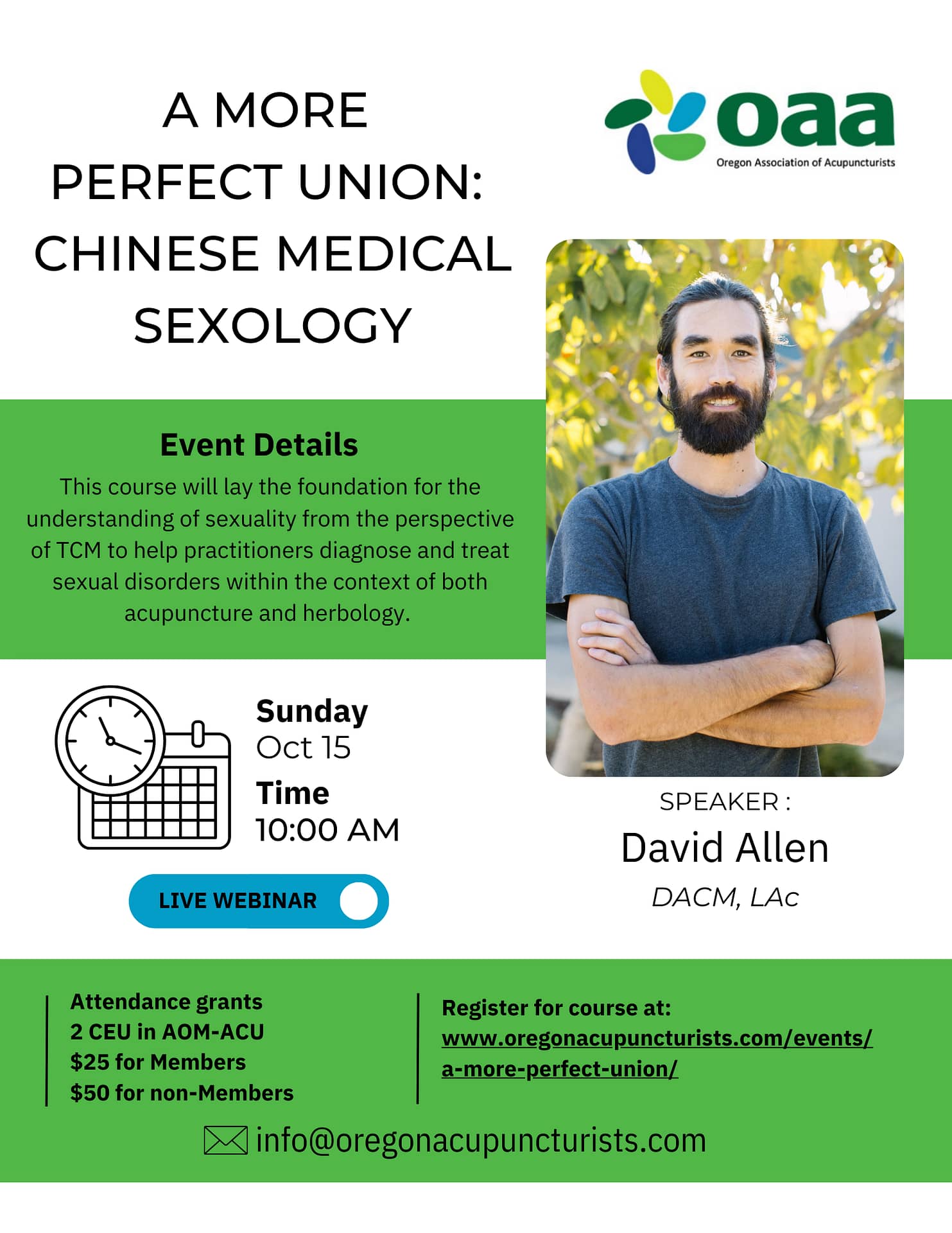 Once you have registered, please keep an eye out for an email from Net of Knowledge with your event access by October 14, 2023. If you do not already have a Net of Knowledge account, one will be created for you with your registration.
Once you get access, be sure to sign in and visit the event page ahead of time to familiarize yourself with the process! We also recommend that you configure your time zone and certificate preferences in your Net of Knowledge learning profile as soon as possible before the event.
If you need a hand at any point, or if you do not receive your access by October 14, 2023, please be sure to check your junk mail, and then reach out to support@netofknowledge.com for assistance.
For any questions about your event access, please feel free to reach out to support@netofknowledge.com at any time and they will help to guide you.
Bookings
Registrations are closed for this event.